QiDao is the premier native stablecoin issuer on Polygon, which has seen massive traction and has surpassed ~$160M in TVL across 5 chains, with Polygon being the largest liquidity sink.
Following QIP047, a total of 0.65 Qi per block (around 180k Qi per week) will be distributed to all the vaults across all chains. This will allow eQi holders to move incentives for borrowing to the specific vaults of their choice.
As of late December, certain whales have been accumulating Qi in order to divert more Qi outside Polygon. There have also been OTC deals with Harry Yeh, who is the chairman of Tomb Finance, for 1M Qi which would further divert more TVL and Qi away from the Polygon vaults.
Based on some Napkin Math here are some of my findings:
eQi Qualifying next week = 43,016,111.581

Unknown Fantom whale = 6.19m eQi
Harry Yeh (Tomb Finance) eQi = 1m * 4 (locked for 4 years) = 4m eQi
eQi held by 2 FTM whales = 6.1m + 4m = 10.19m eQi
FTM whales control over QiDao = 10.19 / 43 = 23.69% (This is as good as a veto on the governance of a Polygon native protocol)
Impact on Qi vault incentives:
Accumulation of eQi by FTM whales threatens Polygon users from earning vault rewards used to leverage their favourite assets on QiDao.
eQi held by Fantom Whale voting for mooBIFI vault (On Fantom) = 6.19m eQi. Soon Harry Yeh will probably divert Qi incentives to Fantom as well or is already doing so.

Has vote locked very recently for 4 years as unlock is only on 09/01/2026 04:35 (max Qi Powah)

Where is all the Qi going outside Polygon?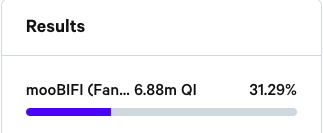 The whale and other users have managed to move a majority of the Qi vault borrowing incentives to the mooBIFI pool, which is used to leverage and farm

Proposition / Appeal / Solution to Polygon Ecosystem DAO
A short term solution would involve giving bi-weekly bribes of 10k USD worth of MATIC to all those who vote for Polygon pools. The long term solution would be for the Polygon ecosystem DAO to do a similar OTC purchase to help keep the rewards on Polygon for the Polygon community to enjoy.
This purchase would be seen as a sign of support and boost people's confidence in QiDao, helping it cement its status as "Polygon's own Maker".
We are all aware of the CRV / CVX bribe wars that are happening right now. Similarly, this could end up being the same between Polygon and Fantom and other chains for control over QiDao. Hence, the safest play is to buy and stake Qi for eQi before it is too late and we lose it to other chains.