May 7th to 13th

Balancer lectured at our Village talks spaces on Thursday talking about Tokenomics and how to think when launching your own token. We had four interesting projects pitching their apps, Dreamer, Blocktickets, Adlunam and Nexity. For this week's spaces we had a total of 950 people listen in over 2 sessions. (based of spaces data)

We added 4 partners for our second month of the voucher program, we see continued tracktion with projects interested in working with Polygon DAO to reach builders at an early stage! Welcome, Quillhash, Coinbooks, Finity and Filecoin!

We closed the applications for our May grants, liquidity and voucher lines with over 150 projects submitting their applications, reviews are progressing well and on schedule

Established a new communications team to further improve how we can provide value to all projects reaching out to the Village program

Polygon DAO grantee Sunflower Farm launched their token for trading with our partners Quickswap, after a very successful beta the token is now tradeable. Polygon DAO and Quickswap are looking into how we further can support Sunflower Farm tokens with possible incentives.
Socials

Polygon DAO held a side event during Spaghetti.eth where we presented the Polygon village concept, had a lecture on web3 law and the PolygonID team had a very appreciated presentation. Thank you to all participants!

Socials grew with 8% last week with a total growth in the last four week of 47%, we keep improving our internal process to sustain growth and support both internal and external teams with visibility

Polygon DAO launched a proposal on the forums to gauge the community interest and support for the DAO to visit ETH NYC. The proposal have gained positive feedback from the community!

We granted funds to the Mega Cube event!

Marco speaks during an University event Milano to promote Blockchain and the Polygon DAO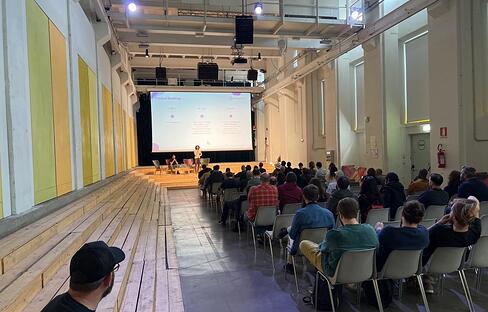 Thank you @abix for the great headers!