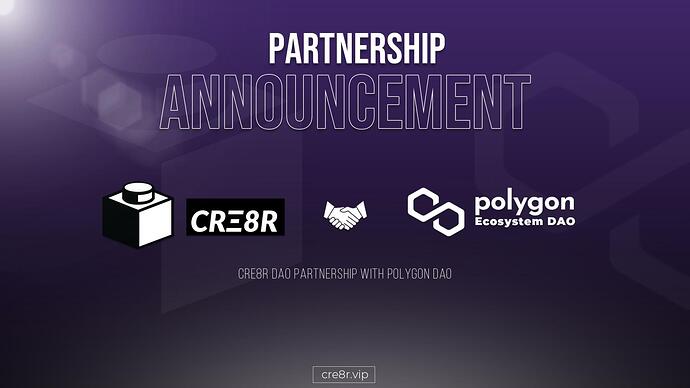 The Polygon Ecosystem DAO was born from the aim of the Polygon Team to progressively decentralize most of the activities now carried out according to more traditional methods, delegating to the DAO participants and the community the right to identify and choose the sectors of the crypto world on which to invest, focus, and create an increasingly complete and interoperable ecosystem.
One of the first - and most important - initiatives of the Polygon Team is to delegate the flow of grants to the Ecosystem DAO. The decision on which projects to aim for is initially assigned to the DAO Genesis Team. The development of a more extensive governance is underway which will debut at the beginning of 2022 with Season 1.
Projects who ask for Polygon support often have needs that are not limited to the request for funding and the Polygon team has always responded to them by offering support in development and marketing operations.
Ecosystem DAO has decided to do the same, partnering to support not only the Polygon teams but also to selected third parties that are able to offer their professionalism to new projects, helping them to enter the market faster than having to rely exclusively on themselves.
The first partner selected by Ecosystem DAO is CRE8R DAO which, making use of its experience in supporting crypto projects and the high level of professionalism of its collaborators, will make itself available to the projects that Ecosystem DAO will finance.
CRE8R DAO
CRE8R DAO specialises in content marketing in collaboration with DAOs, DeFi Protocols & metaverse projects (NFT/Gaming). Our collective is primarily made up of content creators however since we function like a content marketing agency our members perform all kinds of activity from sales, business development, admin, project management etc.
While we do help our clients with their own marketing materials and content our primary service is implementing content marketing strategies across our network of creators platforms.
Working with CRE8R DAO allows our clients to access crypto native audiences with content designed to hit different & hit their KPIs both off & on chain.
POLYGON and POLYGON ECOSYSTEM DAO
Polygon is the leading platform for Ethereum scaling and infrastructure development. Its growing suite of products offers developers easy access to all major scaling and infrastructure solutions: L2 solutions (ZK Rollups and Optimistic Rollups), sidechains, hybrid solutions, stand-alone and enterprise chains, data availability solutions, and more. Polygon's scaling solutions have seen widespread adoption with 1000+ applications hosted, ~600M total transactions processed, ~60M unique user addresses, and $5B+ in assets secured. If you're an Ethereum Developer, you're already a Polygon developer! Leverage Polygon's fast and secure txns for your Dapp, get started here.
POLYGON Twitter - Forum - Discord DAO