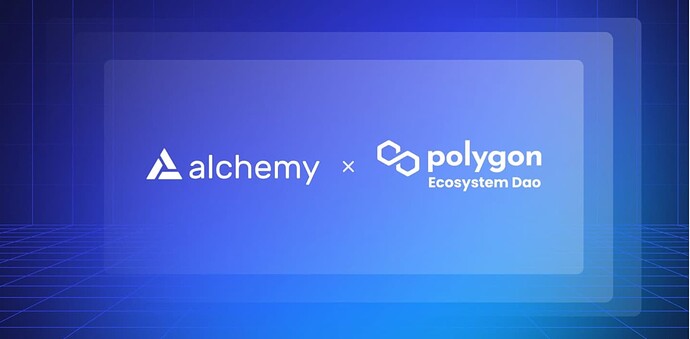 The Polygon Ecosystem DAO, born to progressively decentralize the activities carried out by the Polygon Team, announces a new strategic partner for the growth of the ecosystem, Alchemy, the leading blockchain API and development platform in Web3.
Projects that ask for Polygon's support often have needs that are not limited to granting requests. Polygon Ecosystem DAO wants to meet these needs through both direct support and the experience and skills of selected parts. This is why Polygon Ecosystem DAO is partnering with Alchemy.
Alchemy is the platform layer needed to empower developers to build great applications and this agreement will allow projects to access favorable economic and support conditions. Alchemy
Alchemy
Alchemy is the world's leading blockchain developer platform powering more than $45B in transactions for tens of millions of users globally. Alchemy empowers developers to build transformative decentralized products using Ethereum, Polygon, Optimism, Arbitrum, Flow, and other blockchains. The company is backed by a16z, Coatue, Addition, DFJ Growth, Stanford University, Coinbase, Pantera Capital, the Google Chairman, Charles Schwab, and founders and execs Linkedin, Citi, Yahoo, NYSE, and many more.
Polygon Ecosystem DAO
Polygon is the leading platform for Ethereum scaling and infrastructure development. Its growing suite of products offers developers easy access to all major scaling and infrastructure solutions: L2 solutions (ZK Rollups and Optimistic Rollups), sidechains, hybrid solutions, stand-alone and enterprise chains, data availability solutions, and more. Polygon's scaling solutions have seen widespread adoption with 1000+ applications hosted, ~600M total transactions processed, ~60M unique user addresses, and $5B+ in assets secured. If you're an Ethereum Developer, you're already a Polygon developer! Leverage Polygon's fast and secure txns for your Dapp, get started here.