Current (Updated) Issue
Now I'm trying to use the snapshot for bor
When I use the snapdown script, it gave me a folder named /data and I put it in ~/bor_snapshots.
I cd into a few folders to verify what it looks like
After downloading the bor snapshot with the snapdown script, I do cd data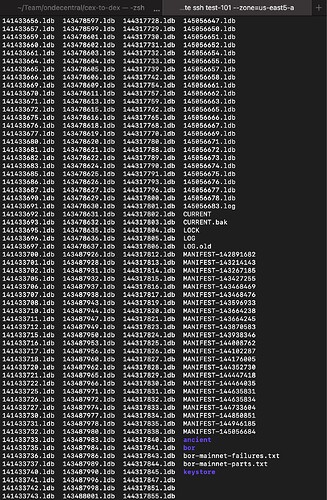 I read the instructions on polygon's doc server
# remove any existing datadirs for heimdall and bor
rm -rf /var/lib/heimdall/data
rm -rf /var/lib/bor/chaindata

# rename and setup symlinks to match default client datadir configs
mv ~/snapshots/heimdall_extract ~/snapshots/data
mv ~/snapshots/bor_extract ~/snapshots/chaindata
sudo ln -s ~/snapshots/data /var/lib/heimdall
sudo ln -s ~/snapshots/chaindata /var/lib/bor

# bring up clients with all snapshot data properly registered
sudo service heimdalld start
# wait for heimdall to fully sync then start bor
sudo service bor start

When I set up heimdall I clearly remember the symlinks don't work. I simply just inserted the data folder directly, and got a heimdall that was 100% synced.
So I'm applying that logic to bor. When syncing bor without a snapshot, I see this as the file structure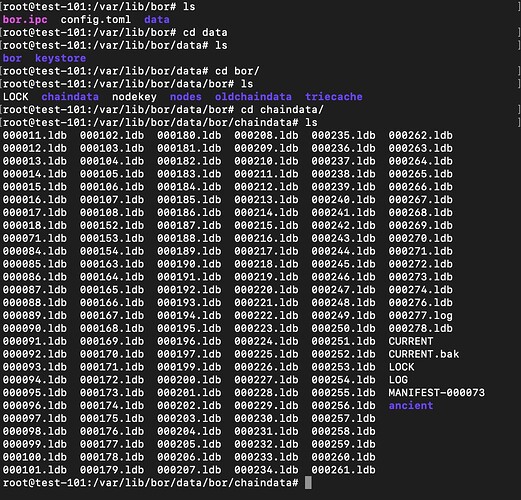 So logically, if I move oldchaindata into chaindata (and rename the canonical chaindata into newchaindata) it should work. Is there anything wrong with this logic?
Prior issue
RESOLVED BELOW:
Do anyone here know why geth and polygon's Heimdall always has intermittent issues connecting to peers?
Let's say you want to run a full node on GCP
You boot it up on the command line
Sometimes it finds peers right away and starts syncing
Other times it gives you the "failed to connect to peers" for a day straight
What is the root cause of this?
Sometimes restarting with sudo service heimdalld stop / sudo service heimdalld start fixes it, but is an unreliable solution
---
After running sudo service heimdalld start and then journalctl -u heimdalld.service -f
these are the messages I see
Oct 20 14:54:42 test-101 heimdalld[18849]: ERROR[2023-10-20|14:54:42.313] Error dialing seed                           module=p2p err="dial tcp 159.203.9.164:26656: i/o timeout" [email protected]:26656
Oct 20 14:54:43 test-101 heimdalld[18849]: ERROR[2023-10-20|14:54:43.315] Error dialing seed                           module=p2p err="dial tcp 35.230.116.151:26656: i/o timeout" [email protected]:26656
Oct 20 14:54:44 test-101 heimdalld[18849]: ERROR[2023-10-20|14:54:44.317] Error dialing seed                           module=p2p err="dial tcp 35.221.13.28:26656: i/o timeout" [email protected]:26656
Oct 20 14:54:45 test-101 heimdalld[18849]: ERROR[2023-10-20|14:54:45.319] Error dialing seed                           module=p2p err="dial tcp 3.211.248.31:26656: i/o timeout" [email protected]:26656
Oct 20 14:54:46 test-101 heimdalld[18849]: ERROR[2023-10-20|14:54:46.320] Error dialing seed                           module=p2p err="dial tcp 3.212.183.151:26656: i/o timeout" [email protected]:26656
Oct 20 14:54:47 test-101 heimdalld[18849]: ERROR[2023-10-20|14:54:47.321] Error dialing seed                           module=p2p err="dial tcp 44.232.55.71:26656: i/o timeout" [email protected]:26656
Oct 20 14:54:48 test-101 heimdalld[18849]: ERROR[2023-10-20|14:54:48.322] Error dialing seed                           module=p2p err="dial tcp 3.93.224.197:26656: i/o timeout" [email protected]:26656
Oct 20 14:54:49 test-101 heimdalld[18849]: ERROR[2023-10-20|14:54:49.324] Error dialing seed                           module=p2p err="dial tcp 35.199.4.13:26656: i/o timeout" [email protected]:26656
Oct 20 14:54:50 test-101 heimdalld[18849]: ERROR[2023-10-20|14:54:50.326] Error dialing seed                           module=p2p err="dial tcp 184.73.124.158:26656: i/o timeout" [email protected]:26656
Oct 20 14:54:50 test-101 heimdalld[18849]: ERROR[2023-10-20|14:54:50.327] Couldn't connect to any seeds                module=p2p

I modified etc hosts and added entry
0.0.0.0 localhost

and commented out the line with 127.0.0.1 localhost